Description

Security
Presence sensor
Noise sensor
Shock sensor
Touch keypad
Multi-sound  alarm siren
24/7 central monitoring

Home automation
Remote control with smartphone
Online rule creator
Scene manager
Room manager
Z-Wave, ZigBee, Nest, Phillips Hue, Sonos, Bluetooth..

Intercom
SIP Server client
Door phone control
Conference calls
Video calls
Dual-network IP connectivity
Remote control with smartphone

Elderly Care
Motion sensor
Noise detection
Automatic check calls
Panic button with auto call
Sound Reminders
Voice and video calls

Thermostat
Gas/floor heating
Temperature meter
Exterior temperature meter
Air condition control
Remote control with smartphone

Wall panel
Room temperature
Room illuminance
Room humidity
Weather forecast
Sticky notes
News stream
Photo frame
Skype, email, browser
Scene controller with 6 buttons

IP Camera
2 megapixels
Live video stream H.264
Motion and scheduled recordings
Remote control with smartphone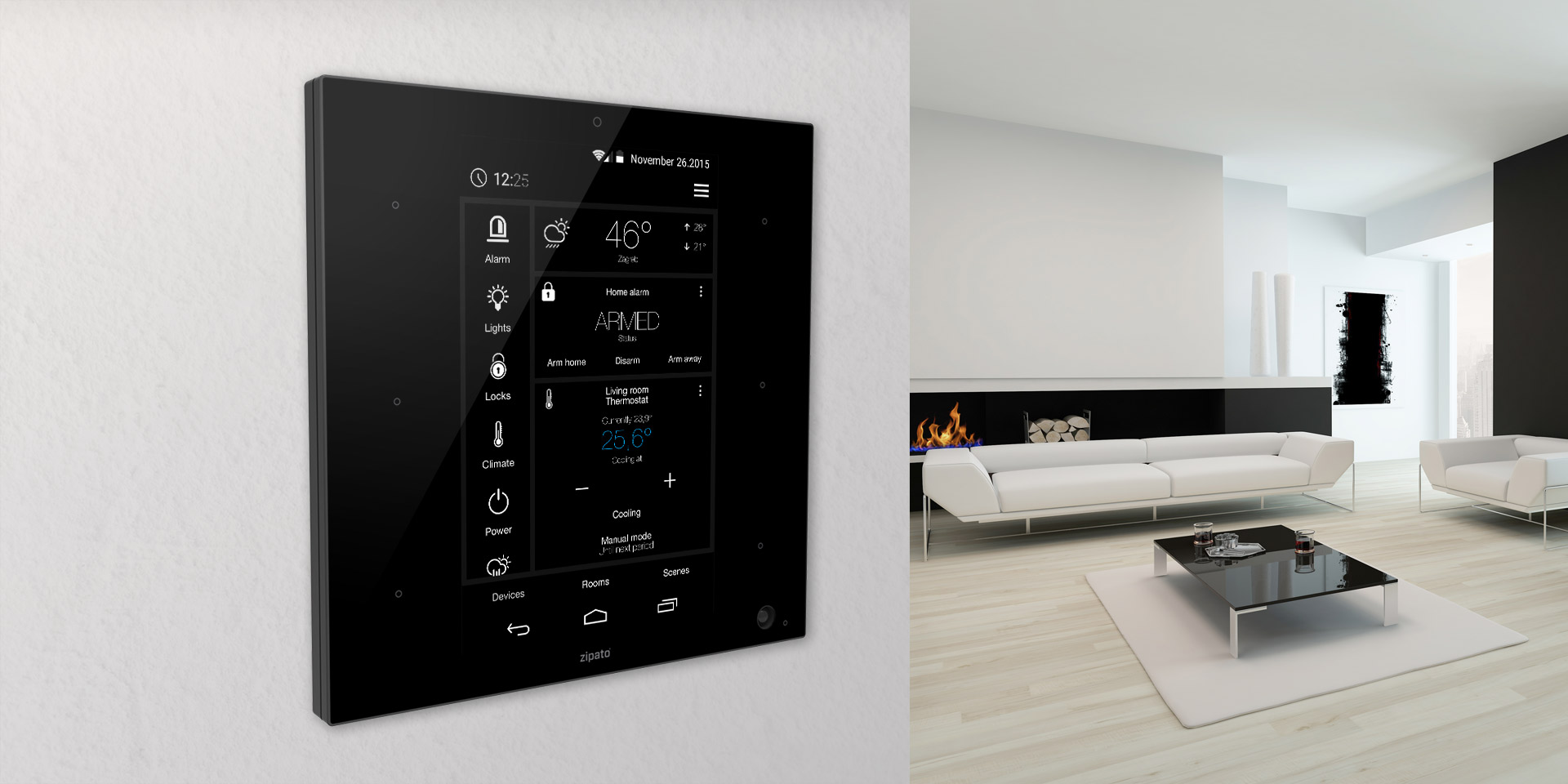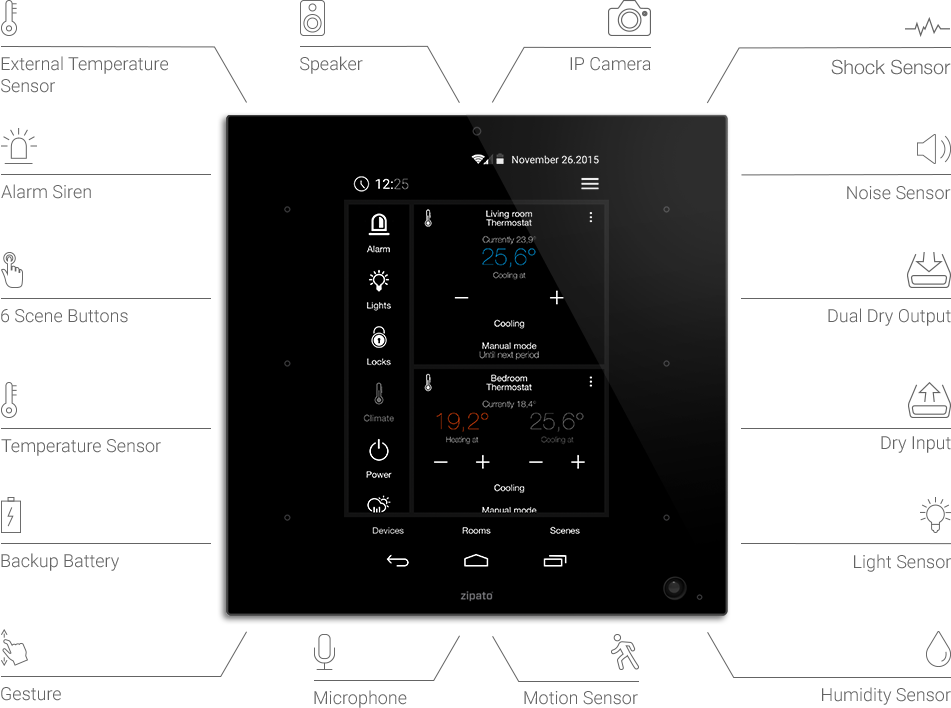 APPLICATIONS
Security system
Home automation
Elderly care system
Thermostat
Intercom
Room controller
Video surveillance and more…
ARM Cortex-A9, Quad-core 1.6GHz CPU
1024MB RAM
8192MB FLASH
Android 5 Lollipop
NETWORK
Wi-Fi 802.11 b/g/n
Ethernet (with optional adapter)
Bluetooth 4.0
Philips Hue
Sonos
Nest
Z-Wave+ 500 series
ZigBee HA
SENSORS
Noise
Light
Humidity
Temperature
Motion
Shock
POWER
Power input: 5VDC
Power supply input: 100-240VAC, 50/60Hz
Power usage:
Backup battery: Li-Ion 3.7V 2000mAh
INPUT/OUTPUT
Touch sensitive 8" screen, 800×1280 px
6 programmable scene buttons
Dry output 230VAC, 1A (EU: 2x; US: 3x)
Dry input 12-24VDC (only EU version)
External temperature sensor (1-Wire DS18B20)
2MP video camera
Muti-sound alarm siren
SD card
Speaker 8Ω/1.5W
Microphone
ACCESSORIES
In-Wall power supply
Wall socket adapter
Wall holder
Screws
Table stand
Quick start guide
PHYSICAL DIMENSION
8.05(W) x 8.05(H) x 0.55(D) inches
205(W) x 205(H) x 14(D) milimeters
WEIGHT
ENVIRONMENTAL
Operating temperature: 0°C to 40°C (32°F to 104°F)
Storage temperature: -25°C to 70°C (-13°F to 158°F)
Humidity: 5% to 95% non-condensing
REGULATION
Safety: UL power supply
CE, FCC, IC
RoHS, REACH
WARRANTY
What is ZipaTile?
ZipaTile is the wall mount digital touch panel based on Android OS, which has multiple sensors and communication modules integrated inside (please check the technical specifications). Powered by the powerful Zipato software platform, ZipaTile will replace multiple standard automation and control systems, such as security, thermostat, monitoring camera and so on…
How can I install ZipaTile?
ZipaTile can be easily mounted on any wall. The power plug can be used with the regular wall socket or it can be built inside the wall for more aesthetic look. Connection with the Internet can be wireless, as well as the connection with various peripheral devices if you decide to upgrade the system.
Where to find user's guide?
If you want to see installation or maintence details for Zipatile, follow the blue icon on Zipatile apps list.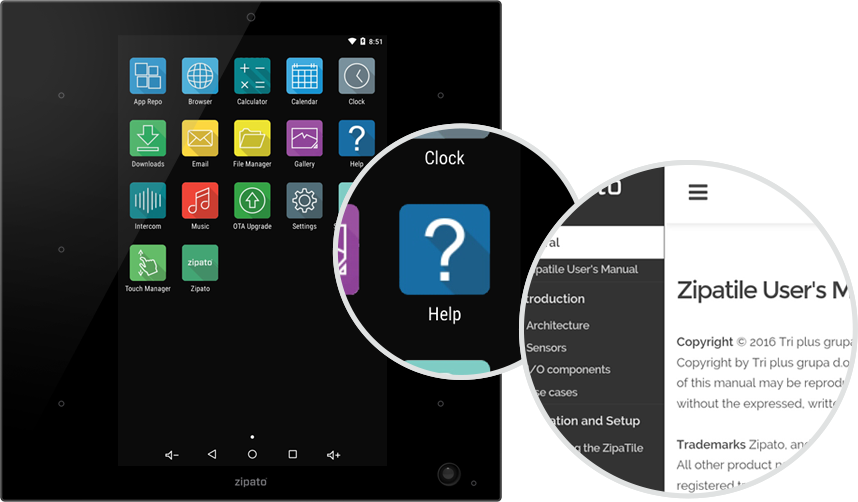 You can also check online on User's guide
How good of a security system is it?
ZipaTile has the complete security software integrated inside, and it can be controlled both locally and remotely, over any PC or smartphone. It has touch display for local control, motion sensor, noise sensor, alarm siren and IP video camera built in already. Furthermore it can be additionally upgraded by using various wireless sensors, and it has been constantly monitored by the Zipato online monitoring server.
When can I buy it?
You can buy  ZipaTile today.