HOW IT WORKS - RULE CREATOR
Automate Yourself
The Zipato Rule Creator is an Online Tool that allows easy and complete customization of
your Zipato Home Automation System. Press play and see how to build a simple home Rule.
Zipato Rule Creator
Easy online tool that allows complete customization of your Zipato system
Installing a smart security and remote control system will allow customers to remotely arm/disarm their system and turn on/off their lights and appliances. Some systems also have schedulers and timers to allow customers some form of automation.
Only the Zipato rule creator allows customers to use the full potential of their connected device. Inspired by the MIT project "Scratch", we developed a graphical tool for easy and fun online automation programing. Using Zipato Rule Creator customers can easily create or change any automation process in their home without any previous programing or automation experience.
Key Features & Benefits
Zipato Rule Creator is accessible on any platform including Mac OS, Windows and Linux—all without the need to install and maintain any application on your computer. Updates from Zipato Rule Creator to the Zipabox are wireless and can be a great benefit to an installer looking to add functionality to an existing Zipato system without the need to drive just to update the system.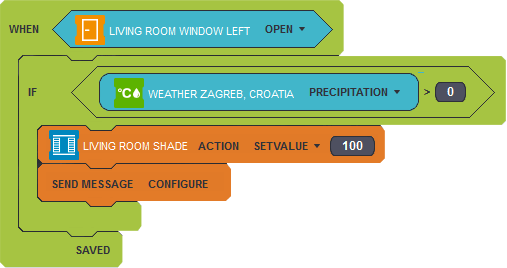 The intuitive graphical programming tool eliminates the need for complex programming or cryptic computer code.
The powerful library of micro blocks (control functions) provide the flexibility to develop simple and complex control sequences.
Universally understood graphic symbols make control algorithms easy to understand.
Use the online tool so you can add or change something in you configuration whenever you want and from anywhere in the world.
No programming skills are required.