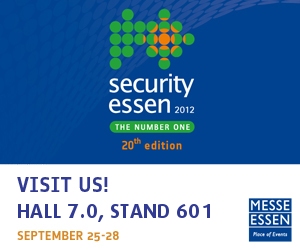 Zipato Smart Alarm will attend 20th edition of Security fair in Essen. This world fair dominates the market as an innovation engine.
Zipato Smart Alarm will attend the 20th edition of Security fair in Essen. This world fair dominates the market as an innovation engine, a meeting place of experts and a hub for excellent business deals all around the world. Like no other fair, it embodies security and fire prevention technology at a top international level. This is why Zipato Smart Alarm will perfectly fit to it.
Tri plus grupa will exhibit its Zipato - Smart Alarm system. Zipato is a home security and automation system based on Cloud architecture. Brains of the system is the Zipabox, modular home automation controller which is able to support various communication standards, thus connect hundreds of various sensors and automation devices into a single network. Smart design allows Zipabox to be placed anywhere inside the home (e.g. tabletop, wall, Din Rail...) and to be easily expanded by using simple plug-in expansion modules. Using its expansion modules, Zipabox can join both wired and wireless sensors into the same network. Also, Zipabox can interconnect with existing DSC wired alarm systems and provide customers with ability to arm/disarm and check status of their security system remotely, as well as use existing sensor for new home automation capabilities.
Once connected to the Zipato Cloud system, customers can enjoy variety of interactive monitoring and control services. They are able to control their complete home over PC or mobile phone, get instant alerts in case of any security incident and see what's happening in their homes by watching live video cameras. Powerful, but easy to use Rule Management tool, allows customers to create strong logical protection methods on their own. For example, they can be automatically checked upon disarming the system.
Besides being a better security, Zipato allows customers to monitor and analyse their energy consumption and save money by stopping wasting it. Zipato can notify customers in case energy over consumption by comparing average energy usage with current consumption.
Such a great level of flexibility and support provides both installers and customers with complete peace of mind. Zipato represents an additional reason to invest in home security system, by allowing homeowners to feel safer, enjoy more comfort and save more energy by installing only one single system.
About Tri plus grupa
Tri plus grupa is a private limited company registered in Croatia. Tri plus grupa d.o.o. is a technology providing company and from the beginning of 2010 its focus is on development of Cloud based M2M platform. The company has an ambitious and experienced team which includes the co-founders with extensive experience in field of telecommunication services and core development team, which consists of highly skilled electronics and software system architects and programmers with different backgrounds. The team has expertise in various areas of information technology needed to create a multifunctional product that is extremely intelligent and user friendly at the same time. This combination of skills and experience creates a solid base and ideal team for developing a fully integrated complete intelligent building system.
About Zipato
Zipato is cloud based home security and automation system allowing customers to make their home safe, comfortable and energy efficient. Using both wired and wireless technology for connecting home devices, Zipato provides great flexibility for installers and complete peace of mind for homeowners