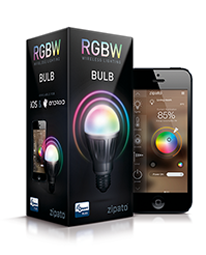 This year, during the CEBIT show, Tri plus grupa will present the Zipato RGBW bulb – world's first Z-wave enabled RGBW led bulb.
Home lighting has just become more fun and comfortable. By using Zipato RGBW bulb, customers can control color and intensity of home lights by just using their smartphones.
Comparing to similar products available on the market, Zipato RGBW bulb additionally has separate warm and cold white color LEDs. These way customers can use Zipato RGBW bulb for both colorful environment and regular white lighting. Furthermore, it is possible to set a temperature of white light according to customer's specific needs, colder white for lighting and warm white for cozier environment.
Once connected to smart home controller, customers can setup colorful lighting to automatically follow their lifestyle scenarios. By creating smart home rules, Zipato RGBW light bulb can be also used for various status signalizations, e.g. alarm system is armed, energy consumption is higher than average, or just customized for a better mood.
Using Zipato RGBW light bulb will bring more fun and comfort in any home, but it will also make homes smarter in order to communicate their statuses to family members.
Come to visit our stand Stand No. A43, Hall 013, and we will be glad to show you the functionality of the worlds first z-wave enabled RGBW led bulb.